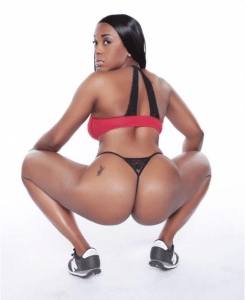 You've probably noticed that we're getting a number of black London escorts at Allstars. We're actually becoming one of the best agencies for black girls in the city. Maryanne is our latest, new cheap London escort addition, and you'll be pleased to hear that she's available practically every day, 24 hours a day! Oh… and did we say, 365 days a year?! Now, that's escort dedication!
About our new cheap London escort Maryanne
Maryanne is one of the sexiest, sassiest new cheap London escorts we've ever had join the team. She's got a body that will blow your mind, and a personality that's going to make you want more and more of her. You're likely to want to book her up on a weekly basis for the next few months once you've seen her. The black London escorts we represent do tend to have a regular client base. We think this is probably because they're aren't nearly as many black girls escorting in London as there are white girls.
Take a look at that picture for goodness sake. If you want a black woman with a real black woman's ass, you need to look no further than Maryanne! You should see her shaking that ass! Hell, you might if you're really lucky! You'll have to talk nicely to her of course. However, we should tell you that we have no idea about what goes on between Maryanne and her clients, all we do is make the introductions!
Other black London escorts
As we mentioned earlier, we're one of the best black London escort agencies in the city. Here's a little list of some of our other black girls available for booking. Each and every one of them is only £100! Now, practically all of you can afford that right? We've never met anyone who grumbles at paying £100 for a cheap London escort. After all, they don't get better value than that do they? And it's even better when it's a new cheap London escort.
Go and take a look at Maryanne now. We are confident that you'll want to book her… That's right we said "book!"