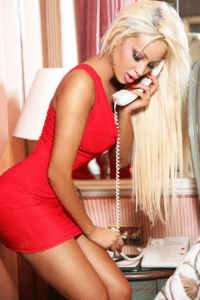 We don't usually encourage our readers to manipulate women, but it is Christmas and we do happen to know a lot about them (our clients and our escorts!) And at Christmas there's something you need to understand about so many women. They are hopelessly festive! This encompasses a lot. Festive in this sense means that they're feeling happy, and if they're single, they're more than likely much more open to the advances of a man.
No-one likes to be alone at Christmas
We know you guys don't like to be alone at Christmas, you book our escorts, we know because we have the stats! Christmas time is quite a busy period for Allstars. This is probably because we're one of the cheapest agencies in London and we've been around for a long time. A good reputation goes a long way when it comes to this business.
But you're not on your own with this loneliness. Women get very lonely at this time of year and it's proven that they are much easier to hit on. All you have to do is give them the feintest hint that they may have found "a keeper!" Don't go telling them a load of lies or anything, that's not cool. Although we have said manipulate the situation, we're more about taking advantage of the festive mood, rather than try to contrive one.
Go out!
More single women go out and about for drinks etc. as it gets nearer to Christmas. So get your ass out of the house and go to the pub. Organise a few weekend sessions with your mates and start to hit on those girls at the bar. We are pretty confident that you will find them much more receptive to your advances. Remember gentlemen, we know women. And more to the point, we know escorts.
Speaking of which!
If you luck out with chatting up the local talent, there's always Allstars! We are open 24 hours a day, seven days a week, all year round. This includes Christmas Day gents! We can't guarantee that we'll have a huge selection of girls available to you on Christmas Day, but we'll certainly have enough!
Keep an eye on our Twitter Feed and our blog for updates as Christmas approaches!