We have a selfish purpose behind this brief article of course, but it is meant to be helpful too. If, like any man who visits our website, you are a lonely guy and you've always got your eye open for a nice woman (dare we say potential partner) it will help tremendously to become someone they can rely on. We don't just mean women either.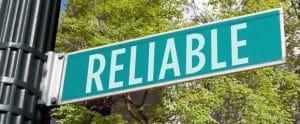 Getting yourself used to it
If you make a habit of being a reliable person in everything you do, it will eventually become second nature. Well that's the idea anyway. Remember that great things are born from humble beginnings, so start small and don't try to do too much; you can make things a whole lot worse that way!
Start by sticking to the plans you have made, and stop making those you're unable to keep. We know it's easy to cancel things. We run a London escorts agency, so we know better than most actually. We put up with your terrible excuses all the time! But don't worry, we're not here to complain endlessly about that; although we will say a few things.
People trust reliable people
It's true. If you can be the guy people go to simply because they know you're reliable, you're onto a winner. And this is certainly a trait that women look for in a potential partner. If you can be the guy that does this or that when a woman asks you to, the guy that doesn't complain, make excuses or simply ignores, you will undoubtedly make an impression.
Be reliable with our London escorts
Obviously we run a London escorts business, so we expect cancellations etc. It's part and parcel of the business, but we would be remiss if we didn't point out a few areas where we believe it would be helpful to highlight.
Please, please, please call us if you need to cancel. It's not a hard job, it's not rocket science! Sending us a text message is not always the best option and an email is definitely not the way to go. Whilst we check emails for bookings etc. periodically, it's never as immediate as a phone call, You won't get a "telling off," so to speak; we're not in school here. As long as you are honest and courteous when you call, we shouldn't have a problem. Oh, and obviously call us in a timely fashion, as soon as you know you need to cancel!
Answer the door
Even if you think it's too late to call us, please make a point of doing so. It really does make all the difference. If we can reach our driver whilst he and your chosen girl are on route to your location, it makes the world of difference. And whatever you do, if you fail to call and she arrives at your door, answer it! It's the right thing to do, even if you are liable for a small charge to cover expenses etc.
After all, let's be clear here. It was you who failed to contact us to tell us what was happening; time to step up and be a man. If you just fail to call and fail to answer the door, you will no longer be able to use our service.