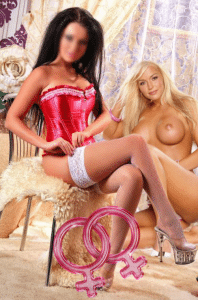 It may have come to your attention that we now offer duo London escort experiences at Allstars Escorts. For the same reason we now offer Elite London escorts, this has been done because there is indeed a demand for it. We wrote a while ago about why we now represent Elite girls, and we went to great lengths to explain that we do this because of demand. The demand for duos is the same. We wouldn't represent them if we didn't think that you guys wanted them.
What a duo London escort can do for you
A duo London escort experience is what every man dreams about basically. However, it's not what every man will treat himself to. There is no real good reason for this, and it's something that you have to get over yourself if you're one of these men. You can't spend your life telling yourself that you don't deserve to have this type of fun in your world. This is a short life and it's made for living. What's that old expression/aphorism? Something about skidding and sliding into your coffin rather than being laid to rest gently. A well lived life is worth it gents, so don't deny yourself the things that you really want to do.
Improve your confidence
Booking to spend time with two (or even more) London escorts at the same time can be extremely liberating. If you're usually quite an underconfident man, then learning to keep two girls happy is one thing that is sure to boost your self-confidence. And you needn't worry too much, they'll certainly show you how you can keep them happy. And before you rush off assuming this and that, it's not all about sex you know! You should know by now that keeping a woman happy isn't always about pleasing her in the bedroom. In actual fact, the vast majority of ordinary women are not overly impressed in the bedroom alone. If you can keep them happy whilst sharing a few drinks, or going out dancing and telling a few jokes etc. then you're onto a winner for sure.
Don't get freaked out
Just because you've probably never spent any length of time with two women in this type of situation before, it doesn't mean that you're going to have a problem you know. The girls who offer the duo London escort experiences at Allstars are very good at making you feel comfortable and relaxed and nothing is ever demand from you. All they request is that you're a nice person and you treat them with the utmost respect at all times. In fact, make no mistake, the more you relax, the better time you're going to have.
Genuinely bisexual London escorts
Another very important thing to realise about the girls who offer this service at Allstars Escorts is that they are all genuinely bisexual. A duo experience is heightened all the more by having two girls who are genuinely into each other. It changes the dynamic you know? If the girls aren't into each other (no matter what happens) the chemistry just isn't going to be there and you won't have as much of a good time.
Make your first duo London escort experience an Allstars Escorts experience